Having problem in kidney does not mean 'we die'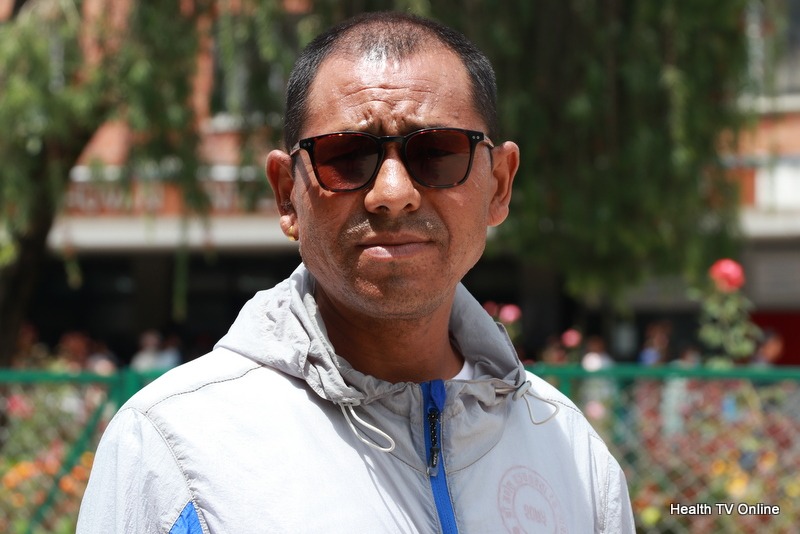 Kathmandu:  Exactly before a decade or on 8 August 2008, Nepal started its first kidney transplantation. Today marks a historic ten years of kidney transplantation in Nepal.
Then and now there should have been a lot of progresses in the field of kidney transplantation in Nepal but most of us might not know about the person who went through the first kidney transplantation in Nepal.
How is the life of Hemraj Shrestha, the first person to undergo kidney transplantation in Nepal? What is he doing these days? We tried to look into his life after transplantation. Hemraj Shrestha is a local resident of Budhnilakantha, Kathmandu where 16 years earlier, he vomited blood all of the sudden. Although he rushed to the Bir Hospital for treatment but nothing was being diagnosed.
After spending few days at Bir Hospital, there was not any progress in my condition and then I was transferred to the Tribhuvan University Teaching Hospital (TUTH) where I was diagnosed with severe problem in my kidney. The doctors started the treatment promptly. Till then I was completely unaware about the disease of kidney', said Shrestha.
'I spent first five years in complete medication', Hemaraj recalls his days a decade ago. But after five years, the medication stopped working and the doctors suggested him to go through transplantation.
'For few months I stayed in homo-dialysis', said Shrestha. 'At that time, it was not possible to transplant kidney in Nepal. So kidney specialist Dr. Dibya Singh Shah suggested me the only two possible alternatives: life-long dialysis or kidney transplantation', added Shrestha. Then he went to India for transplantation.
At that time kidney transplantation in India would cost around 2.5 million Nepali rupees. Shrestha somehow managed the money and went to India. He incurred more health problems while staying at Sir Gangaram Hospital in Delhi. 'I was very worried at that time', he said. While staying there, he heard efforts had been made for kidney transplantation in Nepal. Right after hearing that, he decided to return Nepal thinking that 'even if I die, I will die in Nepal' then he met Dr. Dibya Singh.
Majority of his well-wishers and relatives were urging him to go to India for treatment. It was because the Teaching Hospital was still very new for Kidney transplantation. However, Shrestha remained firm to undergo his treatment in Nepal and finally the transplantation was successful. Hemraj was just 35 years old when he had kidney transplantation and now he is 45.
Hemraj says that because of the routine examination and proper diet, he does not have any big problems so far. He is leading an active life now. He is involved in the real estate business from the early morning. 'Sometimes I completely forget that I have undergone kidney transplantation', smiles Hemraj.
It is totally wrong to perceive that any problems in kidney lead to death or people undergone through kidney transplantation are weak and passive. 'I am more active than before', Shrestha adds.
At one hand, Shrestha was suspicious about the success of the first ever transplantation whereas at the other hand, he also thought about the complications of the disease and torture of regular dialysis. Then he opted transplantation over other and became ready for it. His wife was ready to donate her kidney.
Back then, many people suggested him not to be a 'Trial' of Teaching Hospital urging him that he might die during the process. 'I did not listen to them a bit and now I think that I made a great decision', said Shrestha.
Shrestha has been taking medicines right from the first month of his transplantation and his monthly expenditure in medication is 15-20 thousand Nepali rupees. 'I manage all these expenses through my work and so far I have never depended upon anyone for my medication', he says.
At the other side, his wife Gyani who donated him a kidney is also equally active. Although both of them live with a single kidney, they haven't encountered any big health problem so far. Hemraj believes that one can win over disease if the patient has will power.
He praises the efforts made by the government regarding kidney patients. "Today, government provides lot of facilities for the kidney patients but during my time everything had to be done by patient and treatment was also not so easy.", added Shrestha.
In no way he looks like a kidney patient. He looks healthy and active. He believes that it is because of his positive and optimistic thinking.