Nepal to implement climate project to improve health surveillance systems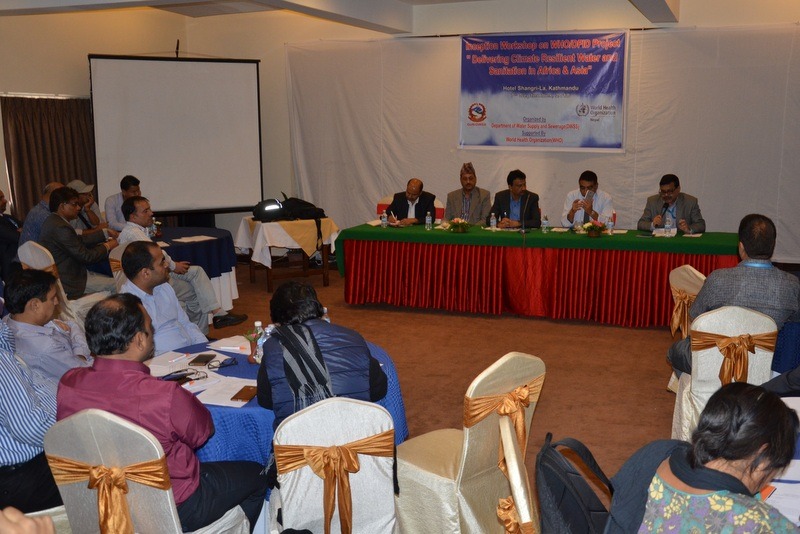 Kathmandu: An inception workshop to launch a DFID-funded programme 'Delivering climate resilient water and sanitation in Africa and Asia', a five-year project (2018-march 2022)- has been organized here on Friday.  The project will be implemented in Nepal, Bangladesh, Ethiopia, Malawi and Mozambique.
Meantime, the project will support Nepal to strengthen climate resilient water and sanitation safety management tools and demonstrate how these reduce the risk of disease.
Climate change is expected to exacerbate the environmental determinants of health and is estimated already to have led to 140,000 excess deaths each year since 1970. Climate change will impact in a range of communicable and non-communicable diseases. Malnutrition, diarrhoeal disease and vector-borne diseases such as malaria and dengue are all likely to increase as a consequence of climate change.
It is estimated that the annual cost of health impairment caused by climate change is $1.5-4 billion by 2030. Water, sanitation and hygiene have a very significant impact on health and in particular influence those diseases most likely to be exacerbated by climate change.
The project aims to ensure that water and sanitation services are resilient to future climate change and public health benefits can be secured and sustained for the future. It also targets for more effective regional and national health surveillance systems that are capable of identifying and responding quickly to emerging threats to health caused by climate impacts on water and sanitation.
Speaking in the launching event, Dr. Md. Khursid Alam Hyder, Public Health Administrator at WHO said that WHO Country Office for Nepal is serious on health impacts of climate change. "We recognize that it is one of the major environmental issues. Considering serious health consequences of climate change, we have been working continuously to address this important issue. In addition to directly supporting health related activities, we have been assisting wash sector mainly on water quality improvement and capacity building", he added.
The project has two components: Health surveillance and early warning systems; and Climate resilient water safety and sanitation management.  In Nepal, the Ministry of Health and Population (MoHP) will be responsible for the implementation of component one while the Ministry of Water Supply will be leading component two of the project. The World Health Organization (WHO) will manage the overall programme and will be responsible for the delivery of the agreed work plan.